燒~~好吃唷...有葱茉,超香的~~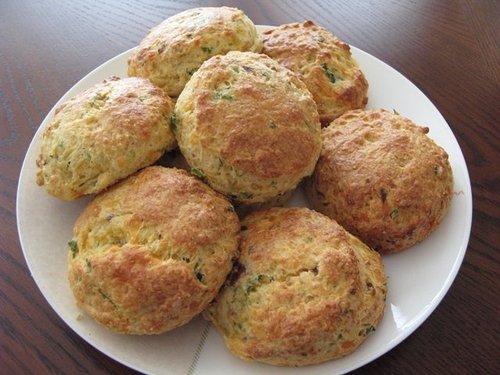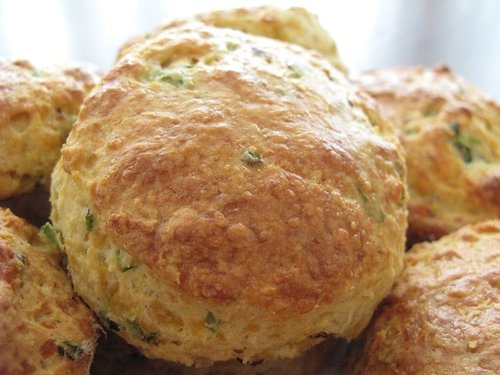 Cornmeal biscuits with cheddar and chipotle (Magazine: Bon Appetit, March 2006)
1 tablespoon unsalted butter
¾ cup(packed chopped green onions)
1 ½ cup all purpose flour
½ cup yellow cornmeal
2 tablespoons sugar
2 ½ teaspoons baking powder
¾ teaspoon coarse kosher salt
½ teaspoon baking soda
½ cup (1stick) chilled unsalted butter, cut into ½-inch cubes
1 ½ cups (packed coarsely grated yellow extra-sharp cheddar cheese
1 large egg
¾ cup (about) buttermilk
1 table spoon finely minced canned chipotle chilies in adobo
1 egg, beaten with 1 table spoon whipping cream (for glaze)
Position rack in center of oven; preheat to 425 F.
Melt 1 tablespoon butter in nonstick skillet over medium heat. Add green onions and sauté 2 minutes to soften slightly. Remove fro heat.
Blend flour, cornmeal, sugar, baking powder and baking soda in processor. Add ½ chilled butter; cut in using on/ff turns. Add cheese, cut in using on/off turns.Transfer flour mixture to large bowl.
Whisk 1 egg in glass measuring cup. Add enough buttermilk to egg to measure 1 cup; stir in green-onion mixture and chipotles.
Make well in center of dry ingredients. Pour butter mixture into well; mix just until evenly moistened.
Turn dough out onto generously flour surface. Knead gently just until dough holds together, about 10 turns. Pat out on generously floured surface to 2/4-in-thicj. Using 3-inch round cutter, cut out biscuit. Transfer to ungreased baking sheet, spacing 1 inch apart. Gather dough scraps; pat out to ¾-inch thickness and cut out additional biscuits. Brush biscuits with egg glaze.
Bake biscuits until golden, tested inserted into center comes out clean, and biscuits fell firm, about 18 minutes. Cool on rack 5 minutes. Serve warm.
Tips: Build a better biscuit
1. Use chilled butter; it will distribute more evenly throughout the biscuit dough.
2. Don't substitute regular milk for the buttermilk: slightly acidic, buttermilk adds tang and makes biscuits tender.
3. Don't over work the dough. For a light, fluffy biscuit, be sure to mix all of the ingredients together just until the dough is moist, and knead the dough gently just until it holds together.